Dell S2825CDN MFP Color Printer





Collaborate effectively and accomplish more with ease.


Empower your teams to collaborate efficiently with direct access to Microsoft SharePoint 2013 On-Premise on a color smart multifunction printer with low cost-per-page printing.

Simplify collaboration
Efficient performance
Easy maintenance
Essential security
Save 5% on toner ordered with a new Dell printer today!

Dell toners deliver more

Dell toners are carefully formulated and specially engineered to work together with Dell printers to deliver excellent image quality and reliable performance, print after print.

To accommodate diverse printing requirements and budgets, Dell offers toners of varying sizes or yields.

Standard Yield = the lowest cost per cartridge

Higher Yield options = the lowest cost per page printed (CPP), and the convenience of changing toner cartridges less often.


Cartridge Type
Standard Yield
Standard Yield
High Yield
High Yield
Extra High Yield
Extra High Yield
Toner Color
Black
Color
Black
Color
Black
Color
Price
$59.99
$77.99 each
$70.99
$105.99 each
$108.99
$140.99 each
Page Yield
1200
1200
3000
2500
5000
4000
Savings : Higher yield CPP vs Standard yield CPP
--
--
52% Less
35% Less
56% Less
46% Less
Other consumables for your Dell printer
To minimize plastic waste, Dell sells the toner cartridge, imaging drums, and the waste container separately, which allows the maximum useful life from each part.
Consumable Type
Drum
Waste Container
Price
$39.99 each
$19.99

Page Yield


50000
30000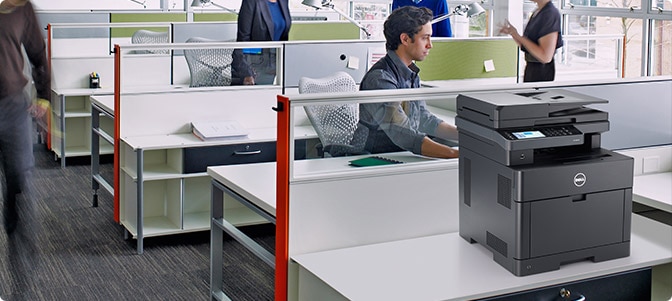 Simplify collaboration
Scan and share:
Handle large-volume scans easily and with less waiting time using the single-pass, dual head 50-sheet Duplex Automatic Document Feeder. Print from and Scan to SharePoint 2013 directly from the printer for improved collaboration.
Smart scanning:
Convert scans into searchable PDFs that are easy to scan, view, edit and share with Optical Character Recognition via the included Nuance PaperPort 14 software.
Time-saving scan operation:
When paper is detected in the ADF or scan bed, the Recent screen is automatically displayed with up 8 previous ADF or scan related tasks, saving you time and effort.
Efficient performance
Multifunctional and robust:
Print in vibrant color and fax, scan and copy on one device. Get fast print speeds of up to 30ppm (letter; color/black) and a high duty cycle up to 50,000 pages per month.
Long-term savings:
Enjoy low cost-per-page printing and save up to 50% of paper with automatic two-sided printing (the default print setting). This printer also supports printing on recycled, renewable content and chlorine-free paper.
Launch tasks quickly:
Just tap the icons on the on-screen dock menu or swipe the 4.3" touchscreen for easy activation. Launch recent tasks, including associated settings, with one touch of the 'Recent' icon.
Extended print capabilities:
Printing large, complex files is hassle-free with a built-in 1GB memory. And enjoy convenient features such as Private/Public Mail Box Print and Proof Print.
Easy maintenance
Save energy:
Reduce energy consumption by up to 30% and toner cartridge size by 25% with improved low-melt toner technology
1
.
Smart design:
New toner cartridge design prevents spillage during shipping, eliminating the need for sealing tape, so replacement is quick and hassle-free upon delivery.
Minimize downtime:
Paper jams are easy to access and address without tearing so you can get back to work quickly.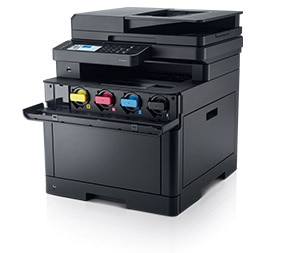 Essential security


Protect data: Keep sensitive documents private with the Secure Print feature so print jobs are only released with a 4-digit PIN.

Prevent intruders: Guard against unauthorized access with secure, walk-up user authentication and Lightweight Directory Access Protocol (LDAP) with Kerberos authentication.

Lock it up: Protect against theft and tampering of sensitive documents by attaching a Kensington lock to the printer and the optional input paper tray. Lock sold separately.
Printer essentials for your growing business
Complete your printer experience with a toner cartridge and an additional 550-sheet paper tray. Look for these great products and more at checkout.

Dell original toner cartridges
Choose extra high- or high-yield toner cartridges for additional savings. Improved, low-melt emulsion aggregate toner is energy efficient and delivers superior print quality.



550-sheet tray
Increase the total paper capacity to 850 sheets by adding this optional 550-sheet input paper tray.
Take advantage of comprehensive services
Keep downtime to a minimum and your business running smoothly with outstanding support from Dell.
Reliable support:
Get technical support for any printing issues via phone or online during your standard 1-year Limited Hardware Warranty
2
. Also, enjoy 1-year Advance Exchange
3
or Onsite Service
4
after Remote Diagnosis Service
5
.
Extended coverage:
Stay covered longer when you choose optional 2-, 3-, 4- or 5-year extensions to your Limited Hardware Warranty
2
Additional support options:
Simplify printer maintenance with optional Dell ProSupport
4
services, featuring options such as specialized technical support, and expert onsite diagnosis.
Printer Specifications
Printer type:
Color Multifunction Printer
Function:
Print, copy, scan and fax
Print speed:
Simplex, 600 x 600 dpi (default):Up to 30 ppm 7 mono and up to 30 ppm 7 color (Letter)
Duplex, 600 x 600 dpi (default):Up to 19 ppm mono and up to 19 ppm color (Letter)
First page out:
From Ready state (Simplex Letter, up to 600 dpi): 12.0sec / 12.5sec (mono/color)
From Sleep (Power Save Mode): 24.0sec / 24.5sec (mono/color)
From Deep Sleep : 28sec / 28.5sec (mono/color)
Resolution:
Default : 300dpi x 300dpi
High Resolution : 600 x 600 dpi
User interface:
4.3" Color Touch Screen (Capacitive)
Print language:
PCL 6 (5c/5e supported)
PostScript Level 3 Emulation
XPS
Data streams:
PCL 5c/5e
PCL 6 (PCLXL 2.1)
PostScript Level 3 Emulation
XPS
PDF v1.7
PWG Raster - for GCP/Mopria
URF
Fonts:
HP PCL 6 Emulation: 86 scalable fonts
PostScript Level 3: 89 Scalable fonts
Processor speed:
525 MHz
Standard memory:
1GB RAM
Usage rate:
Duty cycle 8 :Up to 50,000 pages per month
Recommended Monthly Print Volume:
700-3500 pages per month
Scanning Specifications
Scan type:
Flatbed, ADF / Contact Image Sensor (CIS)
Scan Speed:
Simplex (Letter/A4):
Up to 32 ppm mono and up to 15 ppm color (Letter)
Scan resolution:
600 x 600 dpi, up to 9600 x 9600 dpi (software enhanced)
Scan depth (Color):
24-bit
Scan depth (Mono):
1 bit for lineart and 8 bit for gray scale
Scan size (Max):
Flatbed: 216 mm (8.5') x 297 mm (11.7')
ADF: 216 mm (8.5') x 356 mm (14')
Scan to features:
SharePoint 2013 on Premise, SMB (Network folder),
FTP (Network server), Email, USB Host, Application
Scan to media (file format):
PDF, TIFF, JPEG
Scan Utilities and Application:
Dell Printer Hub
Copy Speed
Simplex Doc (Letter/A4), 1-N copies:
Up to 30 ppm mono and up to 30 ppm color (Letter)
Duplex Doc (Letter/A4), 1-N copies:
Up to 19 ppm mono and up to 19 ppm color (Letter)
Maximum copies:
99
Copy settings:
N-up (2in1 only), Collate,
ID Copy, Job Cancel, Sharpness, Color Balance, Background removal, Color Saturation
Fax Specifications
Fax speed:
Up to 33.6Kbps
Speed dial:
Up to 200 entries
Memory size:
4MB
Fax settings:
Transmit: Broadcast, Delay/Schedule, Forward
Receive: Secure, Remote, Polling, Forward to email (with/without printing)
Mobile printing
Dell Document Hub app (for iOS and Android)
AirPrintTM 10
Google Cloud Print 2.0
MopriaTM
Paper handling
Input sources:
Standard: 250-sheet
Maximum: 850 (via one additional 550 sheet optional tray)
Automated Document Feeder (ADF) Specifications:
Type: Single Pass Duplex ADF
Capacity: 50 sheets
Media size: A4 SEF, B5 SEF, A5 SEF, US Letter SEF, Executive SEF,
Folio(8.5- x 13-) SEF, US Legal SEF
Custom paper size Max: 215.9mm (8.5') x 355.6mm (14')
Custom paper size Min 139.7mm (5.5') x 139.7mm (5.5')
Output destinations:
Standard: 150-sheet
Standard media types, sizes and paper weights
Standard tray
Types and Weight:Plain (Paper weight: 60gsm - 90gsm) Plain Thick (Paper weight:91-105gsm) Covers (106-176gsm) / Covers Thick (177~220gsm) Preprinted (Paper weight: 60gsm - 90gsm) Letterhead (Paper weight: 60gsm - 90gsm) Prepunched (Paper weight: 60gsm - 90gsm) Coated (Paper Weight: 106-176gsm) / Coated-Thick (177-220gsm) Recycled Paper (Paper weight: 60gsm - 90gsm)
Sizes:A4 SEF, B5(JIS/ISO) SEF, A5 SEF, Statement SEF, US Letter SEF, Executive SEF, Folio(8.5- x 13-) SEF, US Legal SEF, A6 SEF, B6(JIS/ISO) SEF, Monarch Env SEF, COM10 Env SEF, DL Env SEF, C5 Env SEF, Custom size: 76 mm - 216 mm (W), 148 mm - 356mm (L)
Multipurpose tray
50-sheet
Duplexer
Automatic
Page layout options:
Portrait or Landscape orientation, Multiple copies, Multipage printing (N-up), Duplex printing, Poster (only for Windows Driver), Booklet printing (only for Windows Driver), Watermarks (only for Windows Driver), Collate, Rotation
Printable area:
8.19" x 13.69" (207.9mm x 347.6mm)
Connectivity
Interfaces: USB 2.0 (high speed) Client port, USB 2.0 Host Port, Ethernet port (Gigabit)
Operating Systems
Windows:
Microsoft Windows 10 32bit/64bit
Microsoft Windows 8.1 32bit/64bit
Microsoft Windows 8.0 32bit/64bit
Microsoft Windows 7 32bit/64bit
Windows Vista 32bit/64bit
Windows Server 2012 R2
Windows Server 2008 R1 and R2
Windows Server 2003 32bit/64bit
Windows Cluster Server Environment
Macintosh:
Apple Mac OS : 10.7 ~ 10.10
Others:
SUSE Linux Enterprise Desktop 11.3 (32/64 bit), Red Hat Enterprise Linux 6.4 Desktop (32/64bit), Ubuntu 12.04 (32/64 bit), SAP R/3 Release 4.6B onwards, Windows Server 2012 R2: Citrix XenAppTM 7.5, Windows Server 2012: Citrix XenApp 7.0, Windows Server 2008 R2: Citrix XenApp 6.5".
Physical specifications
Dimensions (W x D x H)
Printer: 16.9" x 19.8" x 19.7" (429mm x 503.5mm x 500mm)
Shipping: 22.8" x 25.0" x 26.0" (580mm x 634mm x 659mm)
Weight
Printer: 69.9 lbs (31.7kg)
Shipping: 79.4 lbs (36.0kg)
Network protocols:
Transport
IPv4
IPv6
TCP
UDP
IPSEC w/ IPv4
IPSEC w/ IPv6
ICMP
802.1x (Wired) : PEAPv0
Print
Port 9100
LPD/LPR
FTP
SMB
IPP 2.0
Google Cloud Print 2.0
AirPrint
WSD
IPP over TLS
Mopria 1.1
Management and Device Discovery
HTTP
HTTPS
TLS 1.2
SNMP (v1 / v2 / v3)
MIBv2 (RFC1213 compliant)
BOOTP
DHCP
RARP
Auto IP
WINS
DNS
Bonjour(mDNS)
Telnet
Security
Print job management:Secure Print with 4 Digit Pin, Virtual Mail Box (Public and Private),Print Job disable/enable scheduling
Network transport & authentication:HTTPS, Ipsec(IKE V1), IPP Over TLS, SNMP V6
Data encryption:IPsec(IKE)/Pre-Shared Key,802.1x Wired Security
Access control management:Embedded Web Server access control for network port, protocol, printer settings and reports.Operator panel access
Physical security:Kensington lock for printer, primary input tray and optional input tray
Color Control:ColorTrack Pro v1.1
Directory Access:"Local Authentication with mulitple user profile, Remote Authentication(LDAP/Kerberos) for Address Book, LDAP/Kerberos(Multiple Server) user Log-in and Log-out
Operating environment
Temperature:41F to 90F (5 C to 32 C)
Relative Humidity:15% to 85% RH, non-condensing
Altitude:= 10,170 ft (3100 m)
Storage (Packaged):
Temperature: 32F to 95F (0C to 35C)
Relative Humidity: 5% to 90% RH
Altitude: =10170 ft (3100 m)
Acoustics 11
Sound pressure (LpAm) / Power (LwAd):
Printing (mono/color): 50.9/51.3dB / 6.61/6.63B (LwAd)
Standby: 25.4dB / 4.0B (LwAd)
Power specifications
Voltage:
120 vac model: 110 to 127 vac, 50Hz 3Hz/60Hz 3Hz
Power consumption:
Printing Mode: 610 W
Ready Mode: 52 W
Power Saver mode (Sleep) : 20 W
Power Saver mode (Deep Sleep) : 2.5 W
Off : 0.3W
Average current consumption (printing):
115V: 12A or less
Consumables
Ship-with toner capacity: 1200 capacity 12 (Black); 1200 page capacity 12 (Cyan, Magneta, Yellow)
Standard toner capacity: 1200 page capacity 12 (Black); 1200 page capacity 12(Cyan, Magenta, Yellow)
High capacity: 3000 page capacity 12 (Black); 2500 page capacity 12 (Cyan, Magenta, Yellow)
Extra high capacity: 5000 page capacity 12 (Black); 4000 page capacity12 (Cyan, Magenta, Yellow)
Product certifications
Environmental Compliance:
ROHS Compliant 13 ; WEEE; REACH; ENERGY STAR qualified 14 ; EPEAT Silver Registered in the US, ErP Lot 4; ErP Lot 6 and 26; Blue Angel Certified; GS Certified
Safety and EMC Certifications:
EN 60950-1/IEC 60950-1; EN 55022 (Class B)
EN55024
EN61000-3-2 (Class A)
EN 61000-3-3
CE Mark (EU)
UL 60950-1 / CAN/CSA-C22.2 No. 60950-1-07; ICES-003 (Canada)
US CFR Title 47
FCC Part 2 and 15B
Part 15C and Part 68
FDA/DHHS (21CFR
Chapter 1
Subchapter J
RCM (Australia)
Telepermit (New Zealand)
Singapore Mark
SABS/ICASA (South Africa)
NOM NYCE (Mexico)
GS Mark (Germany) and other certifications required by individual country.
Other Certification:
WHQL
Citrix
SAP
Novell YES
USB
Google Cloud Print
Mopria
AirPrint
Supported languages
English, French, German, Italian, Spanish, Danish, Norwegian, Dutch, Swedish
Printer management
Dell Printer Configuration Web Tool Standard Printer MIB ColorTrack Pro 1.1 Dell Printer Management Tool Dell Open Print Driver (OPD) Dell Open Manage Printer Manager (OMPM)
Contents in Box
Dell S2825cdn, Software and Documentation CD, Nuance
TM
PaperPort
TM
v14 CD, Ship-With Black Cartridge (1200 page yield)
15
, Ship-With Color Cartridges (1200 page yield)
15
, Power Cord, RJ11 Cable, Setup Guide